Lives Transformed – Natalia Alejandra Solis
July 2014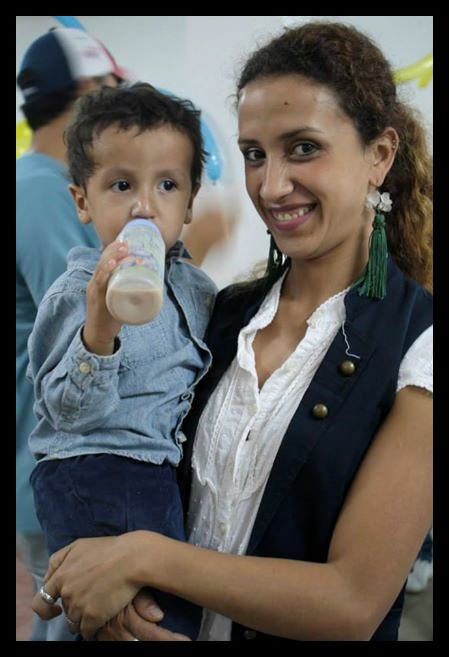 Name: Natalia Alejandra Solis.
Age: 25
Marital status: Single
Birth place: Corrientes, Capital
Ministries you are involved at Ywam: Arts, Youth Ministry and Nueva Generación Cafe.
How long have you been serving at Ywam?
1 year
 2. Tell us about your life before coming to Ywam.
I was born in a Christian home, so I´ve attended church since then. But, I walked away from Jesus when I was a teenager until I turned 23. I used to go out at weekends without the permission of my parents, to parties, drinking and smoking, but I never used drugs.
At the age of 23 I became pregnant and everything changed. I decided to step out from that life so I came back to church, Centro Familiar.
I strengthened my life and started serving God there.
How did you get to Ywam Corrientes?
Through Centro Familiar church, because this church belongs to the mission. I heard about the DTS (Discipleship Training School) and decided to take it. Even before taking that school I already knew that I wanted to be part of Ywam. That´s the reason I decided to stay and work here as a full time staff member.
How has your life been changed since then?
I can say that now I am more responsible, I take my commitments and fulfill them. I´m not walking around not knowing what to do with my life. Now I know my life is being used to serve God. Also, I have learned how to raise my son, because if I still were far from Jesus, I would have given my son to my parents to raise him. But here I have been taught how to assume this responsibility and I have learned how to be a mother.
What does it feel like to be a missionary?
I feel that I have a purpose and a reason to live. Today I can serve and invest here in Corrientes, but my conviction to serve God where ever He wants me to is so strong that if He wanted me to go to any other place I would go.
What´s the "ywammer" moment you will never forget?
Something that really moved me was living day by day, it means depending on God´s daily provision. It´s not just one moment, it´s daily life and it has been the most impacting experience as a ywammer.
Mention some part of God´s character that has made an impact on you?
His Faithfulness
What´s your favorite food?
Pasta
What part of the world would you like to visit?
India
 10. Where can you see yourself five years from now?
I can see myself here at the Ywam base of Corrientes, married, having my own home and leading a ministry.
 11. If you were abandoned on an island and had the chance to take someone with you, who would that person be and why?
My son because he is always good to me and I would never abandon him
 12. If your house were on fire and all people and animals were safe, what´s the first thing you would rescue?
My clothes
 13. What´s your personal motto in life?

Keep going on even though when I see nothing