SOWING THE WORD OF GOD IN THE HOSPITALS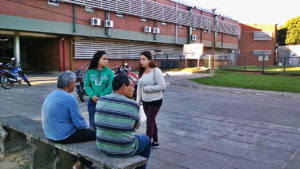 A team of missionaries from Youth with a Mission (YWAM) from Corrientes Capital went last April 22 to the Hospitals: "José De San Martín", "José Ramón Vidal" and "Juan Pablo II" from the city of Corrientes, in order to evangelize the passers-by.
The team consisted of mission workers and students who are currently attending the 5-month Discipleship and Training School (DTS), which aims to empower the believer in his relationship with God, character and calling, to train them to fulfill the task of the Great Commission.
Thus, within this practical activity of the DTS, both students and leaders went to these places to share the love of God with people. They distributed leaflets, presented the message of salvation, and prayed for those who asked for it.
Dozens of people listened to the message of Christ; nothing that is sown will be fruitless.