Useful Information
The Climate varies significantly, although heat and humidity predominate. During winter (June to September) the temperature often lowers to around 3 or 5 degrees Celcius (fareinheit), and there is a cold wind that blows frequently from the South during the months of July and August. Average yearly temperatures are about 25 degrees Celcius (fareinheit) with the hotest days occasionally reaching into the 40s (Celcius).
Water here is perfectly drinkable from the tap. There is also bottles of water available from most shops, sold either "with gas" (soda) or "without gas" (mineral water).
Sicknesses and Diseases are well controlled in Argentina owing to coordinated vaccination efforts that have now reached a large percentage of the population. There are no epidemics affecting this country although should there appear anything it is dealt with quickly by the government. If, for some reason there exists a risk with any sort of disease, we will let you know before you come so you can ensure you are protected against it.
The money used in the Republic of Argentina is the Argentine Peso. The exchange rate for the Peso with the Dollar : visit XE.com for more details.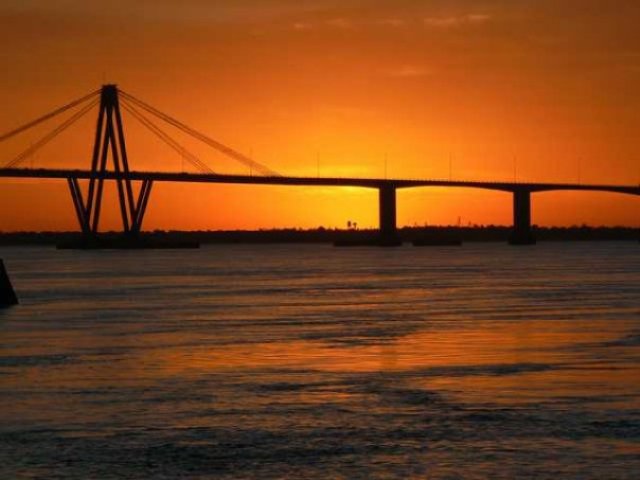 Technology in Argentina is rapidly catching up to the cutting edge of the western countries, and it is easy to find a phone or Internet in virtualy any place in the country. Two of the most popular methods of communication include:
Mobile Phone – If you want to use a mobile phone here, check with your company that you have "Global Roaming" enabled and that they provide you with the services you need here. Alternatively, you can bring a GSM telephone with you and replace the chip inside it with one that you can buy from here, which will give you local calling rates and free reception of calls (you don't pay to receive the call, but the person calling you pays to call Argentina).
Broadband Internet is available in nearly every place in the country. Prices usually range from $1 peso per hour to around $4 pesos, and there is often a large range of choices of where to go as Cyber-Cafes and Cyber-Telephone shops are prolific.
Public Transport is very strong in Corrientes and you will find two different local city bus lines passing by the YWAM base every 10 minutes or so, starting from 5am in the morning until 1am that night. Your journey to the city center by bus takes around 45 minutes, and is significantly shorter in a taxi or remis but you are paying a lot more. It is also possible that you may want to purchase a bicycle, scooter, or motorbike to move around.
The Culture of Argentina is very multicultural due to a large influx of immigrants from all over the world when the border was opened in the 1800s. In Corrientes and Misiones there is a large number of people with a European heritage.
The province of Corrientes has a strong separate identity to the rest of the country and has one of the oldest cities in Argentina – the city of "Juan de Vera de la Siete Corrientes" (John from Vera, from the Seven Currents) – which originated from an early mission station. Corrientes City has a population of approximately 500,000 people who all love their city fervently.

The City of Corrientes is located in the North-East of Argentina, along the North-West edge of the state which carries the same name. Built alongside the Parana River, and surrounded by lakes, there is always somewhere beautiful to visit, from the busy beaches in summer and the riverside parks bordering the city to an adventure in the wetlands filled with wildlife in the middle of the state.
The official Religion in Argentina is Roman Catholocism although there is a strong following and adoration for the Virgin of Itati, various saints, and a diverse range of their own and aquired beliefs. This makes it a great challenge, but not impossible, to share God's Word.
(To help you find more information we will soon provide links to the best official and informative websites that have maps, photos, and other useful items.) We look forward to your visit…
Related Pages
Note, there are more links available on the Spanish translation of this web page.